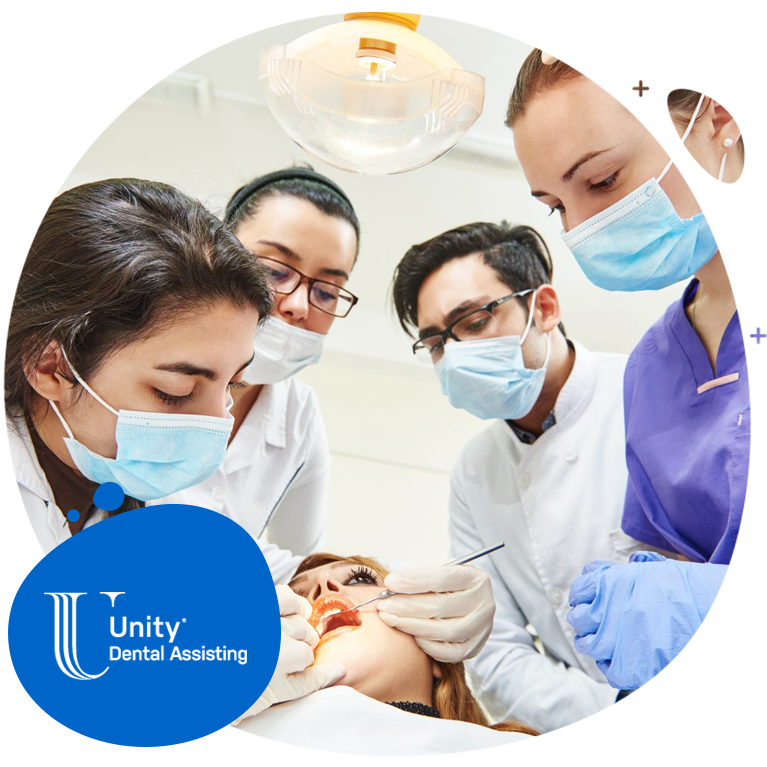 We train you in a real dental practice with real dental technologies taught by real Dental Assistants.
Our modern hybrid program includes online learning with hands-on clinical training.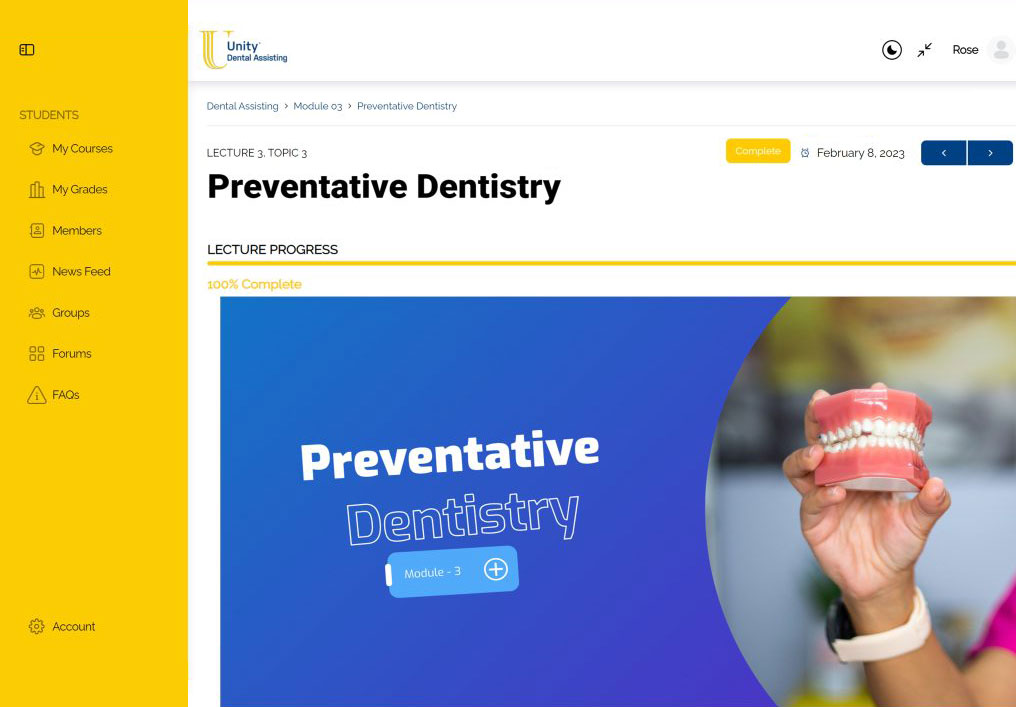 Customized Online Learning Platform
Hours of Dental Assisting content, including videos and voiceover audio
Convenient & flexible self-paced classes
Real-time grading
Multiple quiz and test attempts
Custom curriculum created by Dr. Whitney Sebree, DMD
Private access to Unity's latest job opportunities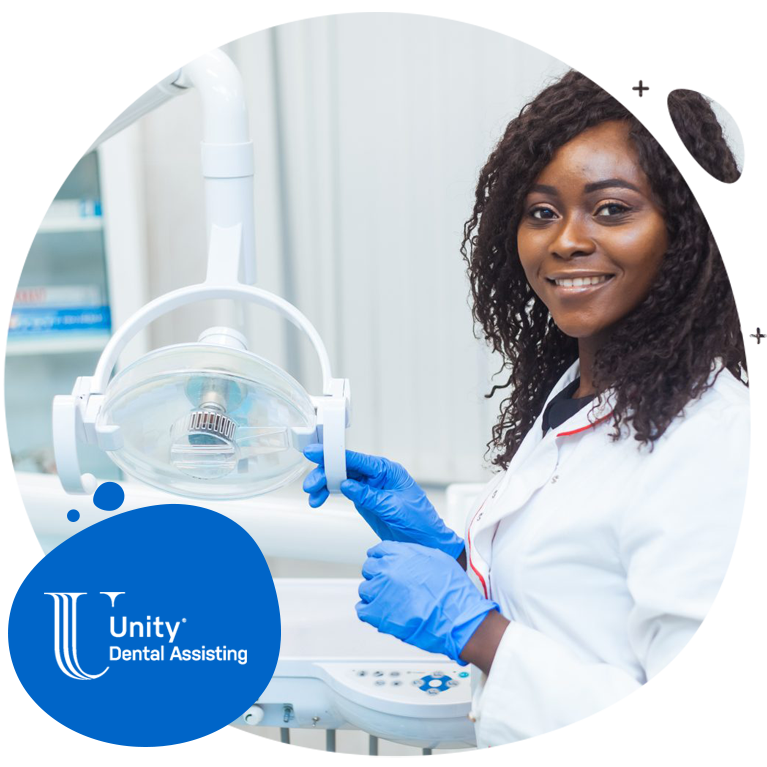 Convenient and affordable
Jump Into Your New Career
Financial assistance (99% of students get approved)
New classes every 7 weeks
Two convenient locations
Small class sizes (Student to Instructor ratio 6:1)
Job placement assistance
X-Ray prep course included
Coronal Polishing prep course included
CPR certification included
Enroll 100% online in less than 5 minutes!
A Career in Dental Assisting:
Three-day weekends every week? Yes, please!
Expected Growth Rate through 2030
Estimated # of job openings each year through 2030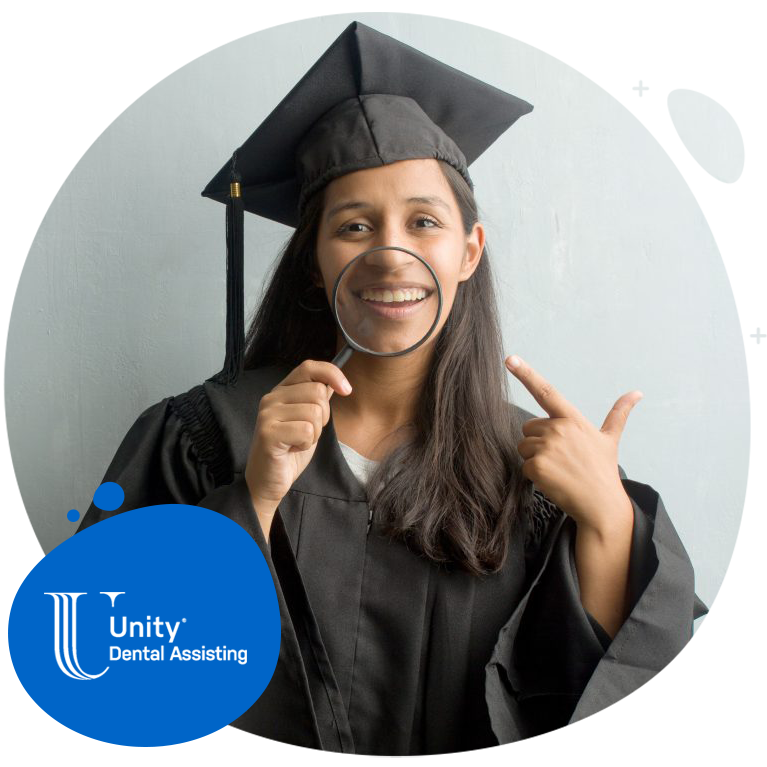 Make a positive life change
What do you feel is your biggest barrier to making a positive life change? What's holding you back from choosing to better yourself and open up new doors of opportunity?
Is it fear? Anxiety? Stress of the unknown? Your friends or family? Lack of confidence in yourself, or inability to stay committed to a big decision?
You're not alone! At some point, we all experience these same feelings before jumping into impactful life changes. But guess what? You cannot progress in life without taking a leap of faith towards your goals!
You must believe in yourself! It's up to you to either invest in your wellbeing, or stay within your limited comfort zone.
So what are you going to do? What are your goals and ambitions? What are you searching for? Is it happiness? Security? A better life? New career opportunities with a bright future?
It's up to you to decide! You're in the driver's seat.
Why not try a different approach for once and choose to invest in improving your life by starting a new career?
We can help you get started today! We promise your future self will thank you.

Learn More About Our Program
Class Schedules
Current Tuition & Costs
Financial Assistance
Low Tuition (so everyone can afford it)
Hurry! Classes start soon and are filling up quickly.
Seats are reserved on a first come, first served basis. Act fast before yours is taken!
It was fun and educational class I've learn alot and it's more affordable and quick that some other Dental Assisting Schools especially Colleges.
Elizabeth Maierean
2023-02-18
Did my dental assisting school here and loved it! So quick and I learned so much, the teachers are so understanding and so patient with all of us. Wish the program was a little longer because I'll definitely miss it!
Janelle Margau
2023-02-18
I had the best experience, clean office and the best teachers , if you are looking for a school and dental office to be an assistant this is the right place for you !!
This was such an amazing program! The hands on training portion was by far the best part along with the student advisors.they really took the time to ensure that we understand the fundamentals.
jatajzia jackson
2023-02-18
I had a fun experience and learned some new things to get into the dental field.
It was a amazing training program staff was amazing I would advised anyone interested in dental assistant to choose this program
Nada Almihyawi
2022-12-17
I have fulfilled my long awaited dream I learned a lot from this programme I am 💐grateful to everyone