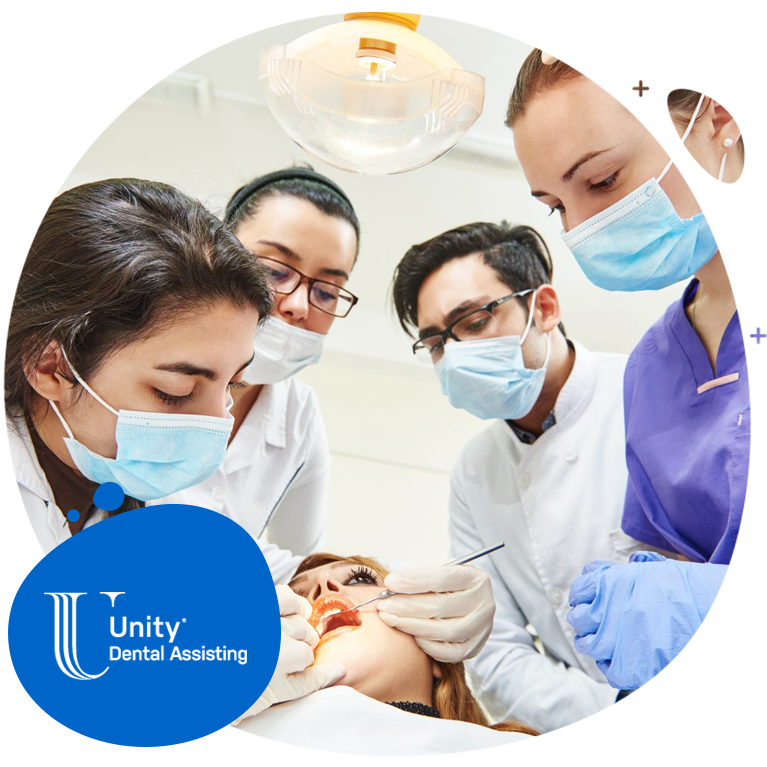 We train you in a real dental practice with real dental technologies taught by real Dental Assistants.
Our modern hybrid program includes online learning with hands-on clinical training.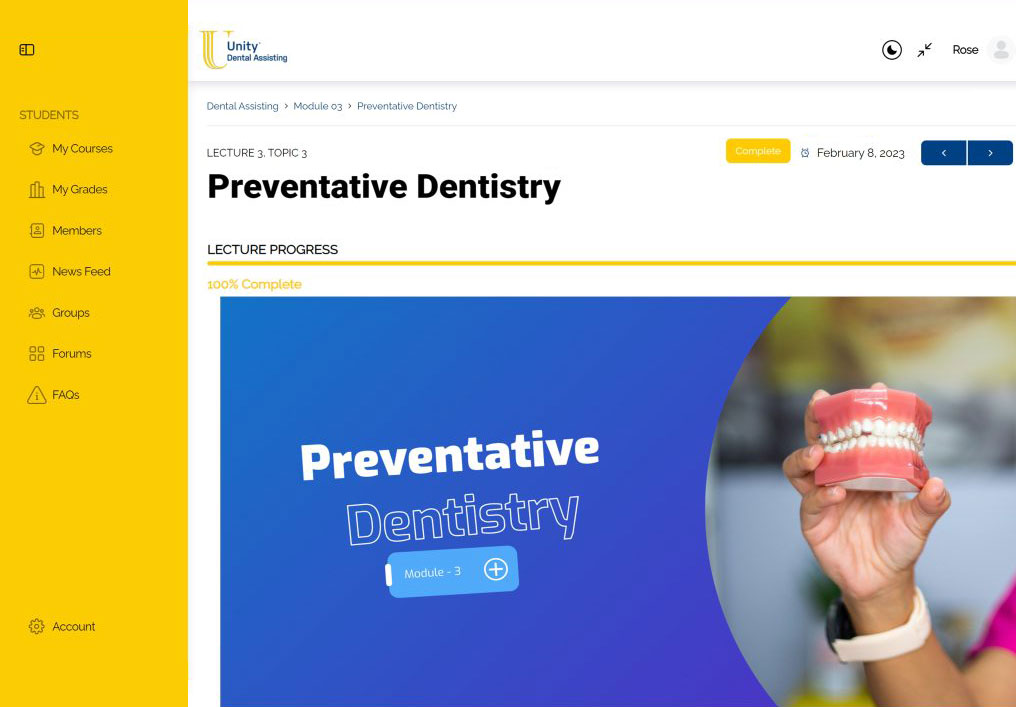 Customized Online Learning Platform
Hours of Dental Assisting content, including videos and voiceover audio
Convenient & flexible self-paced classes
Real-time grading
Multiple quiz and test attempts
Custom curriculum created by Dr. Whitney Sebree, DMD
Private access to Unity's latest job opportunities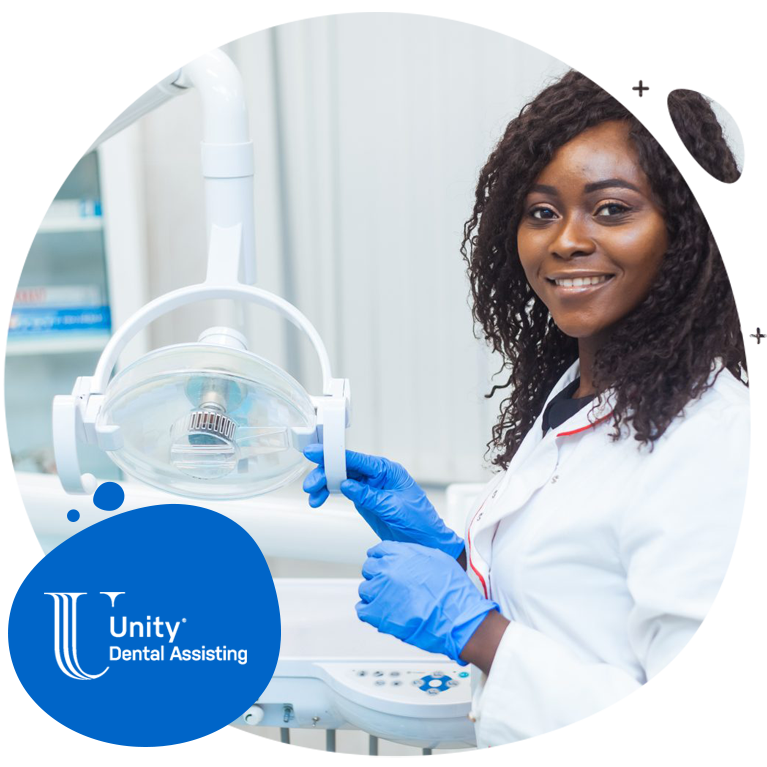 Convenient and affordable
Jump Into Your New Career
Financial assistance (99% of students get approved)
New classes every 7 weeks
Two convenient locations
Small class sizes (Student to Instructor ratio 6:1)
Job placement assistance
X-Ray and CPR certifications included
Enroll 100% online in less than 5 minutes!
Start A Promising Career In Just 10 Weeks
Expected Growth Rate through 2030
Estimated # of job openings each year through 2030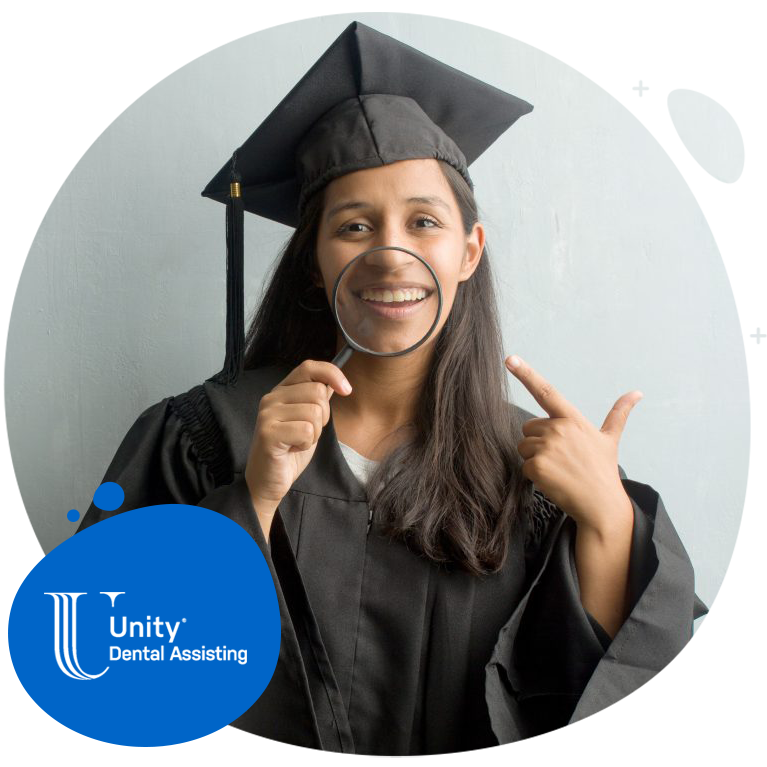 Make a positive life change
What do you feel is your biggest barrier to making a positive life change? What's holding you back from choosing to better yourself and open up new doors of opportunity?
Is it fear? Anxiety? Stress of the unknown? Your friends or family? Lack of confidence in yourself, or inability to stay committed to a big decision?
You're not alone! At some point, we all experience these same feelings before jumping into impactful life changes. But guess what? You cannot progress in life without taking a leap of faith towards your goals!
You must believe in yourself! It's up to you to either invest in your wellbeing, or stay within your limited comfort zone.
So what are you going to do? What are your goals and ambitions? What are you searching for? Is it happiness? Security? A better life? New career opportunities with a bright future?
It's up to you to decide! You're in the driver's seat.
Why not try a different approach for once and choose to invest in improving your life by starting a new career?
We can help you get started today! We promise your future self will thank you.

Learn More About Our Program
Class Schedules
Current Tuition & Costs
Financial Assistance
Low Tuition (so everyone can afford it)
Hurry! Our next Class Starts Soon.
Classes are filling up quickly. Seats are reserved on a first come, first served basis.
It was great I really learned alot from my instructor Kim and the hands on training. Also Steve and the whole team are always super helpful 🙂
Unity is the greatest dental school for students interested in learning everything there is to know about working as a dental assistant. They will educate you nearly all you need to know about working as a dental assistant. This course was great because it was quick and packed with information. The online portion was fantastic and made so many things simple for us as students. Thank you very much, Unity, for providing me with this opportunity.
AMAZING hands-on school! The best thing about this school is having live in office patients. You will leave prepared for the real world. They are truly with you every step of the way. I would give 10 stars if I could.
Alexander Nguyen
2021-08-15
Excellent dental assisting program. We've hired two graduates of this program fresh out of school as dental assistants in my oral surgery office. Unity has given them a great foundation to build on, along with a great working attitude. Keep up the good work!
It was an amazing experience with the hands on training and everyone was so polite.
YourOddzAreLow
2021-04-09
Took a Dental Assisting course here! Loved it, and they have very informative courses that made it easy to learn.
Pamela Napodano
2020-06-24
Our orthodontic practice has had a few externs from Unity, one of which we ended up hiring. The Dental Assistants that have externed with us have been professional, reliable and well-prepared to work and learn. The one we hired has been absolutely exceptional and we are so pleased to have her on our team. Great job, Unity!