10-Week Dental Assisting Program
Designed to prepare students to enter the workforce as trained dental assistants in the field of dentistry.
The learning experience has been strategically structured to build a required skill set with advanced techniques based on the modern practices of dentists.
The majority of the education will be taught in various parts of the dental practice, with a heavy emphasis on developing technical skills, building confidence in a clinical setting, experience using dental supplies, materials, and technologies, and teaching best practices of dental assisting.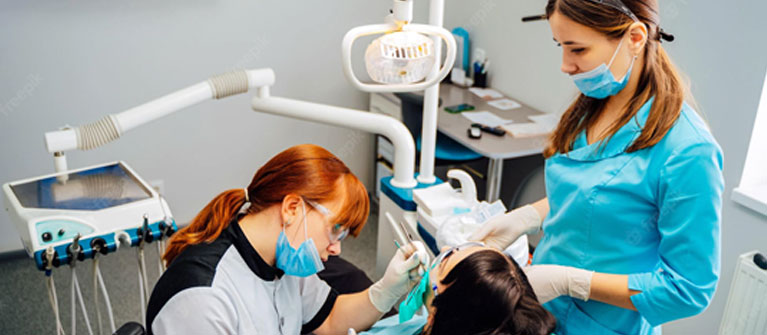 20 hours of online learning
Saturday hands-on training in an active dental practice
Train with real dental supplies & modern dental technologies
40-hour externship
X-Ray & CPR Certification
Small Class Sizes (Student to Instructor ratio 6:1)
Externship & Job Placement Assistance
Career Services
Affiliation agreements with hundreds of dental practices
Fall 1
October 3, 2022 – December 10, 2022
Winter 1
December 12, 2022 – February 18, 2023
Winter 2
January 30, 2023 – April 8, 2023
Spring 1
March 20, 2023 – June 3, 2023
Summer 1
May 15, 2023 – July 22, 2023
Summer 2
July 3, 2023 – September 16, 2023
Fall 1
August 28, 2023 – October 28, 2023
Fall 2
October 16, 2023 – December 30, 2023
Orientation & Introduction into Dental Profession
Sterilization, Infection Control & Maintenance
Dental Anatomy & Physiology/Dentition
Dental Charting
Dental Instruments & Equipment
Dental X-Rays
Vital Signs, Anesthesia & CPR training
Impressions & Cerec training
Dental Materials
Practical (Restorative)
Practical (Crowns)
Practical (Preventative Dentistry)
Resume, Interview, & Professionalism
Jump start your new career for just $4,450
Online e-Learning Platform, Dental Supplies, Equipment, and Materials

$600

Tuition

$3,850
Student Services (included in enrollment)
Tutoring, online webinars, and chat/text sessions with our Dental Assisting Instructors
Resume writing guidance
Interviewing techniques and professionalism
Career counseling
Externship and job placement support
With our flexible payment options and unique financial assistance, our modern approach to training includes a solution specifically designed to meet your economic situation.
Don't see an option here that works for you? Contact us today to discuss customizable options.
Ideal for those looking to avoid interest and payment fees and graduate debt free
$ 4,450
$ 4,200 cash discount!
(Full payment due prior to start date)
or
$ 615 down payment
(Payment due prior to start date)
$ 295/Week
(13 weekly payments)
Ideal for those needing to start a new career while deferring all tuition payments
LEARN NOW, PAY LATER
$208/month
24 months
No payments until after you graduate and find employment!
Low credit or no credit? No problem! 99% of students are approved for financial assistance.
State funded grant for underemployed or unemployed.
Contact Arizona@Work
East Valley: (602) 372-9700
West Valley: (602) 372-4200
Our Student Advisors will support you through the application process!